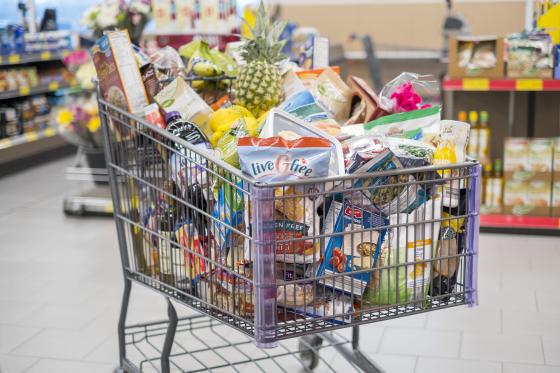 By Lawrence Aylward
Allan Noddle describes the current state of retail grocery as "the age of chaos and disruption." But all the turmoil could be a wonderful thing for the private industry, said Noddle, the former president of Ahold USA and Daymon Worldwide, who was the keynote speaker at the Private Label Manufacturers Association's third-annual CEO-Only Seminar on Tuesday, held in conjunction with the Private Label Trade Show this week in Chicago.
Like many pundits, Noddle said he expects a "huge gain in market share in private brands" in the near future. With bricks-and-mortar stores getting smaller, Noddle said retailers must respond with differentiation, meaning branded products are out and private branded products are in.
"If I'm going to be a bricks-and-mortar store, how do I get you into my store when you can sit at home at your computer and order something and have it delivered within two hours?" Noddle asked. "Only private brands provide exclusivity, differentiation and profit growth for retailers. This is where the future lies if you are a bricks-and-mortar retailer."
Noddle, who began his grocery career in 1964, said bricks-and-mortar stores will also become fewer as alternative ways of shopping become more popular. He noted that consolidation will also prevail in the next few years because retailers will have to continue leveraging their low margins against higher sales.
"There will be few global players left in the next five years," Noddle predicted, adding that Aldi, Walmart, Amazon.com, Costco and China's Alibaba Group will be some of them.
"Those five global players are going to put tremendous pricing pressure on [suppliers]. They will squeeze [suppliers] because they are going to have tremendous purchasing power."
Bricks-and-mortar stores will become smaller at the expense of the center store, where consumers will elect to buy current center-store items such as bottled water for the cheapest price online, Noddle said. That said, retailers will also expand more fresh products into the center store. "But the not fresh you think," Noddle noted.
"Foodservice will become the new innovation of the 21st century," he added. "You are going to see restaurants and all of sorts of food in the store that you have never seen before. Some retailers are way ahead of others with this because they saw this coming."
Noddle is also aware of consumers' increasing penchant for healthier foods, including organic and free-from offerings. He predicts this penchant will grow into a full-blown "healthy food revolution." But there is a problem.
"Most suppliers are ill-prepared for it," Noddle said.