Charlie Munger, Warren Buffett's right-hand man has been very bullish on China for a while, going as far to say that, "American investors are missing out." With that in mind, this article is the first part of a new series labeled "Titans of China." The first deep dive is the internet conglomerate Tencent (OTCPK:TCEHY), famous for its WeChat everything-app.
Investment Thesis
Tencent is one of the most impressive companies on the face of the planet. An incredible operating ecosystem and strong financials make the valuation tolerable.
What A Moat!
If you check out the company's products and services page, the list goes on and on. There are too many products to go through one by one, but here is the run-down.
The operating segments are broken down into three parts: value-added services, advertising, and other.
Value-added services, which include online games and social networks, make up 64% of revenue, as reported in the latest quarter. Online games constitute 39% of sales and social networks, including WeChat and QQ, make up the remaining 25%. To give context, Tencent hauled in $11.7 billion in revenue for the first quarter.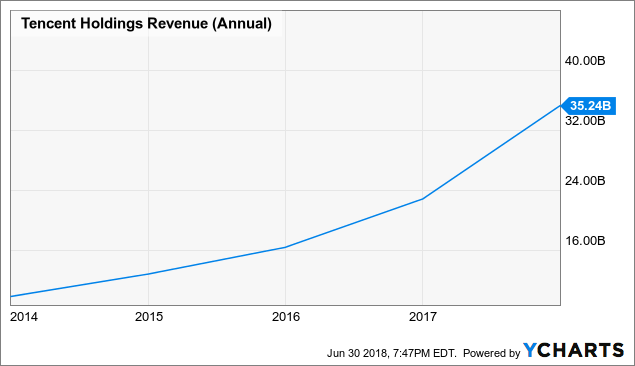 To break it down further, in online games, Tencent bought out Riot games in 2015, the maker of the infamous League of Legends. What's more, Tencent also has a 40% stake in Epic Games, creator of Fortnite, responsible for 40 million monthly active users (MAUs). In other words, Tencent is a behemoth in online gaming, an industry that is set to grow to $42 billion by 2022, up from $18 billion today.
Moreover, Tencent has two iconic messaging super-apps, QQ and WeChat. QQ has roughly 850 million MAUs and WeChat has over 1 billion. WeChat is the absolute standard in China. I studied in China and I can attest that everyone and their mothers use it. It is often compared to Facebook (NASDAQ:FB), but it is much more powerful. You can do everything from paying your bills to sending videos to messaging to playing games to using it as a CRM for your business. The potential is really limitless. Plus, the company is trying to innovate with an initiative called mini-programs, in an attempt to expand the app's reach even more.
Still included in the value-added services segment are streaming and music subscriptions. As noted in this article, Tencent Video competes with iQiyi (NASDAQ:IQ) and has about 56 million subscribers. Apparently, Tencent Music is also one of the most popular streaming services in China.
The next segment is advertising, which makes up 14% of revenue. In comparison, Facebook makes more than 90% of its sales from ads. Because of this discrepancy, Tencent's platforms have some serious untapped pricing power. To put it in perspective, Facebook's average revenue per user (ARPU) comes out to about $20 whereas Tencent's is around $7. This suggests Tencent has ample room to expand its advertising capabilities. Another sign of this is that the gross margin on this segment is only 31%, low compared to Facebook's near 50% operating margin.
Next, is the 'other' segment, which includes payments and cloud services. TenPay and WeChat pay have bolstered growth as this segment has consistently grown in the triple digits. The company is also doubling down on cloud services, as capital expenditures increased 200% in the past quarter to buy more servers, presumably to rent out.
This is not to mention an investment arm that manages $50 billion, a bank called WeBank, and an AI-powered medical innovation center. But these projects are just fun side-jobs for the Chinese behemoth.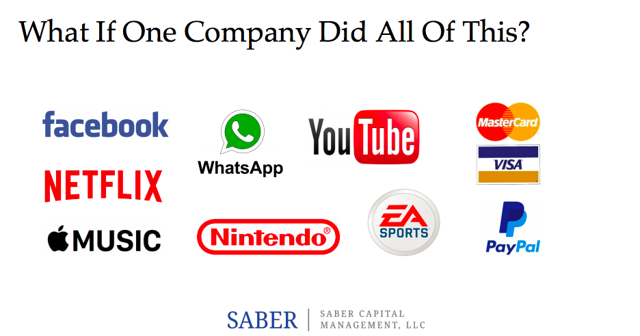 Source: Saber Capital Management
I wanted to go into this much detail on the individual pieces of Tencent's business to show just how powerful it is. It is reminiscent of Amazon's (NASDAQ:AMZN) extreme focus on innovation. But all of this is not very useful as an investor if it doesn't translate into formidable financials. Fortunately…
Financial Greatness
Not many companies can grow revenue nearly 50%, not to mention companies with run-rates of over $45 billion. But Tencent doesn't grow without concern of profitability. Operating margins consistently surpass 30% and free cash flow margins follow suit. Looking at Tencent's financials are a thing of beauty.
But the company is not resting on its laurels. Free cash flow took a relative dive in this past quarter because of investment in servers as previously noted. Even still $2 billion in quarterly free cash flow is nothing to sneeze at.
On the margins side, value-added services brought in 63% gross margins, the highest of the segments by a long shot, followed by 31% for advertising and 25% for 'other.' So, gross margin has actually trended down in recent years from the low 60%s to now 50%. But Tencent is playing the long game. I believe the company is cementing its strong position as a leader in numerous industries before taking full advantage of its monetization potential.
This past quarter was the first time revenue growth dipped under 50% in the past couple years, the lowest since Q1 of 2016 at 43%. Clearly, demand is strong for all of Tencent's products. Coupled with management who is playing the long game, the future looks bright. It makes sense that management is forward thinking considering this business is led by Pony Ma, CEO and founder who still maintains a 9% stake in the business, making him China's richestperson out of its 800 or so billionaires.
Speaking of stakes, one of Tencent's favorite uses of cash is simply buying stakes in companies that have great technology. Just to name a few, the company owns 5% of Tesla (NASDAQ:TSLA), 5% of Activision Blizzard (NASDAQ:ATVI), 12% of Snap (NYSE:SNAP), 15% of JD.com (NASDAQ:JD), 20% of 58.com (NYSE:WUBA), and too many others to include. Tencent doesn't let much cash build up on its balance sheet, taking a different strategy than U.S. companies like Apple (NASDAQ:AAPL) and Microsoft (NASDAQ:MSFT). Tencent's net cash is only about $400 million. This is evidence of creative management since they have so many areas where they can deploy cash rather than just letting it pile up on the balance sheet. The optionality is fantastic for this business.
Risks
Even a company as great as Tencent is not without risks. Mainly, its source of success could be a source of its downfall. With a company as diversified as it is, managing all of the moving parts could become difficult. Watching the revenue growth specifically will tell us if we need to worry as investors because it could be a sign that it is getting beat by more specialized providers.
The interesting thing with internet companies is with massive scale, diversification is simply an overflow of places to re-invest cash. In other words, with so many opportunities, foraying into other sub-sections of tech is only natural. Think Amazon.
I believe this is the main concern with Tencent right now. Can a company really do all that it is doing better than a company who is only focused on one thing? I would love to hear some more ideas of what readers think are the main risks for this company, but for now, let's wrap it up with some valuation.
Conclusion
I won't spend a great deal of time on valuation because it is:
a) not ridiculous and
b) hard to overpay when a business is this incredible.
According to Yahoo, the market cap is $475 billion. Considering almost a neutral net cash position, let's just keep this as the enterprise value. The company does not provide specific guidance, so we will just have to make an educated guess. If the company can grow sales 43%, a reasonable number by the end of 2018, revenue would come in at $52 billion. Using a historical operating margin of 35%, EBIT would be around $18 billion.
Dividing the market cap by forward EBIT brings us to just over 26x 2018 EBIT, a reasonable valuation for such an incredibly entrenched company with its hands all over the growing Chinese internet scene. While certainly not "cheap" based on traditional valuation metrics, the premium isn't all that much greater than Facebook's trailing EV/EBIT of 23.
Tencent has one of the biggest moats I have ever seen. True to its mission of "enhancing the quality of life via Internet Services," this company is making waves and will continue to do so. Keep this one in mind.