6 Supply Chain Terms Creating the Buzz
March 12, 2018 | Gary Frantz
Tags: Logistics, Supply Chain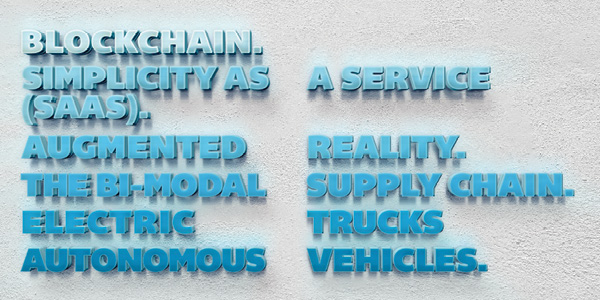 Word! Brush up on the latest supply chain and logistics terms so you can hold your own at the next industry conference.
The business of logistics and supply chain has always been characterized by a full complement of interesting, unique, sometimes confusing, and now and again mind-boggling terms to explain the fundamental process of moving goods from Point A to Point B.
Over time, this laundry list of terms logisticians use to describe what they do, and how they do it, has proliferated, particularly as technology takes a front and center role in how we plan, execute, and analyze logistics.
Every year, more definitions and descriptors enter the logistics lexicon; 2017 was a banner year for technology-related terms.
We saw a year where "software in the cloud" helped to accelerate the "digitization" of supply chains. Meanwhile, "the Amazon effect" forced retailers to rethink the need for "brick- and-mortar" stores, and the "Internet of Things" connected everything to everybody over the "last mile." And we know all this happened because "big data" analytics told us so.
Phew!
What does 2018 have in store? Inbound Logistics asked several industry watchers what topped their list of terms that will dominate conversations this year. Some answers were serious, others tongue-in-check. But the consensus of our unscientific poll is that the supply chain community in 2018 will see the following six terms continue to emerge and gain traction in our conversations:
1. Blockchain. This was by far the biggest vote-getter. Known more as the foundation for crypto-currencies such as Bitcoin, blockchain jumped into the supply chain vernacular with the formation of two global alliances, the Dutch Blockchain Coalition and the Blockchain in Transport Alliance.
In January 2018, IBM and Maersk turned up the volume, announcing a joint blockchain-based venture to develop a "global trade digitization platform built on open standards and designed for use by the entire global shipping ecosystem."
Blockchain is a distributed ledger technology that establishes a shared, immutable record of all transactions that take place within a network and then enables permissioned parties access to trusted, accurate data in real time. The technology holds promise for digitizing global trade processes and enabling participants, in a privacy-secured environment, to collaborate and execute end-to-end global shipping transactions with real-time visibility.
The concept is gaining traction, and the technology will be disruptive, but full development could take five to 10 years, according to a recent Gartner Inc. report co-authored by Bart De Muynck, research director for transportation technology in Gartner's supply chain research group.
"Right now, the reality is hyped," noted De Muynck in an interview. "For transportation, blockchain is much more applicable if you can embed it around exiting technologies and processes. It won't replace an app or database, but it can elevate transparency, visibility, and security."
2. Simplicity as a Service (SaaS). The increasing complexity of supply chain operations and the technologies upon which they rely has dramatically raised the stakes as businesses struggle to successfully deploy solutions. What have been massive enterprise software deployments can be months and sometimes years in the making, and once fully operational, not deliver anywhere near the value originally promised.
The complexity and time-to-value problems have been key drivers behind software developers' shift to an original SaaS model: software-as-a-service, or software "in the cloud." The updated definition: Simplicity as a Service.
It's described succinctly as "enabling customers to achieve their desired outcomes in an ever-changing business environment with less time, effort, cost, risk and resources," writes Adrian Gonzales, president of supply chain consultancy Adelante SCM. This new version of SaaS "goes beyond making user interfaces more intuitive and easy to use and deployments faster and simpler," he says. "It's about helping companies respond more quickly and intelligently to changing customer requirements, competitive threats, regulations, and other market forces."
It's also why business models for third-party logistics providers, software vendors, and consultants are converging.
3. Augmented Reality. Virtual reality (VR) headsets are all the rage with video game players. Augmented reality represents applying this technology to supply chain business processes, particularly in warehouses.
Virtual reality headsets or other wearable technology, such as Google glasses, aid order-picking operations and work such as assembling products on pallets. These wearables use sophisticated software to blend digital imagery and information with the user's environment to help workers visualize and perform tasks more accurately and efficiently.
4. The Bi-Modal Supply Chain. This is a big topic for 2018, according to De Muynck. As the transformation to a digital business ecosystem matures, companies will find themselves running both "analog" (Mode 1) and "digital" (Mode 2) supply chains—or bi-modal.
An analog supply chain is the traditional model, where product is physically placed in a store and displayed for customers. They walk around the store, find and pick the product they want, pay for it, then carry it out of the store.
In the digital supply chain, customers find the product and place the order online. The system directs the order to the nearest warehouse. Robots and other automated systems pick, pack, and label the order, sending it on a conveyor to shipping.
In the fully digital supply chain of the future, a drone or autonomous vehicle would then take the shipment and deliver it to the customer. In this automated process, human hands do little or no touching. And customers can go online at any time and view the status of the order.
Today, "retailers have to support both, not one or the other," says De Muynck. People still physically handle and move the product in the warehouse, while incorporating more automated systems, such as robotics and other automated picking equipment, as the business of fulfillment becomes increasingly digital.
"This is where new technology comes in, supported by artificial intelligence and machine learning," he adds. "It helps workers process more volume more efficiently and quickly."
5. Electric Trucks and autonomous vehicles. Both these developments made great strides in 2017 and will continue to dominate conversations as they move closer to broad commercial adoption.
Following its introduction late last year, Elon Musk's Tesla Semi electric truck has drawn orders from the likes of Anheuser Busch, Walmart, Sysco, and PepsiCo, as well as fleets including J.B. Hunt and Schneider.
And Tesla is not the only player. Truck manufacturers such as Daimler Freightliner and Navistar also are well into the development of both electric trucks and those with autonomous operating systems. With a projected battery range of 300 to 500 miles pulling a typical 80,000 pounds of trailer and freight, it's likely these soon-to-come electric tractors will see initial deployment in short-haul runs and city pickup and delivery routes.
6. Autonomous vehicle (AV) technology is expected to be deployed for both traditional diesel-powered trucks as well as electric. The National Highway Safety Administration defines five levels of vehicle automation, from zero (no automated operating features) to five (fully automated operation).
Most of the truck-platoon demos rolled out last year were Level 1 applications; automation that still has some level of driver assistance and/or intervention. At Level 2, trucks would operate with automated steering—accelerating and braking while driving on the highway—but most likely still with a driver in the cab.
As vehicle-to-vehicle communications and other enabling technologies such as adaptive cruise control are further refined and developed, and regulatory issues are ironed out, the prospect of "platoons" of two or more trucks running close together in sequence, particularly for long stretches of less-crowded highways between cities, will arrive.
This technology development offers great promise for improved fuel efficiency, safety, and quality of life for the driver.
Other terms, such as the Uberizing of freight brokerage, the "gig" or shared economy, predictive analytics, disintermediation, and the ever-growing influence of e-commerce will continue to redefine how we talk about what's happening in supply chain and logistics.
One thing is for sure—the supply chain thesaurus will be adding a lot more pages.