Yet despite its long history of blistering success, Alibaba (BABA) is not only a threat to Amazon (AMZN), but it has built a growth engine that is superior. True there are differences between their business models. And direct apples-to-apples comparison is tricky. But Alibaba's low-inventory model, compared with the capital-intensity of Bezos & Co., make it hard to ignore. It's also why BABA's outperformance of AMZN's meteoric share price performance isn't surprising:

Source: Yahoo Finance.
Amazon's future may appear bright, but it may be eclipsed by Alibaba's awe-inspiring business model. The following factors, in my opinion, are going to be the critical differentiators for Jack Ma's e-commerce giant in the years ahead.
Going beyond e-commerce
Alibaba, like its rival Amazon, is evolving into a technology company that happens to facilitate e-commerce. It has moved to become the sole technology infrastructure provider to small businesses, especially in China. Alibaba is expanding its capabilities across the commerce technology spectrum. From its sales platforms to payments and even logistics, Alibaba 'does it all'. Planting the seeds to become one of the global tech giants of the 21st century.
On the consumer side, Alibaba possesses a vast data pool to understand the needs of its customers better. Connecting with them on multiple touch points. BABA has also managed to stay ahead of the curve in mobile, reaching out via video sites, social media, location app, browser, media and more.
Alibaba has a lot of balls in the air, all with the goal of creating an 'Alibaba Economy'.

Source: Alibaba Investor Day Presentation.
Getting in on the payments game
Alibaba has announced that it will buy a 33% stake in privately held Ant Financial. The move is yet another addition to the Alibaba economy. Spreading its dominance into the Asian fin-tech market. The value of this investment can't be overstated, as Ant has been investing in payment and financial technology start-ups at a blistering pace.
For example, Ant Financial recently picked up stake in Paytm, which is the #1 digital payments app in India. Paytm is also happens to be the 3rd largest e-commerce marketplace in India. Paytm's valuation has grown threefold since its subsidiary Ant Financial picked up in February 2015.
True, Payments have not yet proven to be cash rich model for a majority of the fin-tech startups. But for Alibaba, it presents a sustainable moat to promote and cross-sell a broader basket of products and services. Ant Financial may one day go public, and there are rumors that it could fetch an individual valuation of approximately $100 billion.
Cloud Momentum
The success of Amazon Web Services is hard to ignore. It is the cash cow that fuels Amazon's relentless expansion. Anyone who is remotely familiar with tech industry would know how Amazon's cloud (known as AWS) emerged as the game-changer as it toppled giants such as IBM and Microsoft. Alibaba is doing the same in China, and it has ambitions to take its cloud business global and challenge the incumbents including AWS.
First, Alibaba is the #1 cloud platform provider in China and is nearing 1 million paying customers. The division, like AWS, as exhibited stratospheric growth: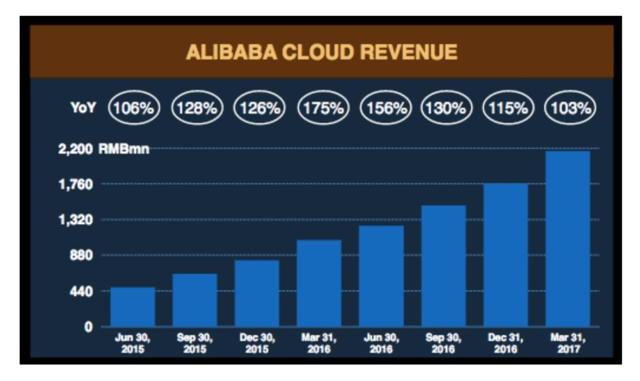 Source: Alibaba Investor Day Presentation.
It is this division that should have AMZN investors particularly nervous. Should Jack Ma enter the cloud services industry state-side, watch out.
Visions of R&D
Amazon is one of the biggest Research and Development spenders in the U.S., even ahead of Google. Alibaba's R&D investments, if viewed in absolute terms, lag far behind Bezos & Co. However, that may not last forever. As a percentage of net revenue, Alibaba outspends mighty Amazon in investing for the future.
Alibaba has planned to invest $15 billion in R&D over the next three years — $5 billion per year. All the more impressive is that this represents a significant jump from 2017's $3.2 billion in R&D spending.
| | | |
| --- | --- | --- |
| Amount in USD Billions(12 Months Ended Dec 31, 2017) | Alibaba | Amazon |
| R&D Expenditures | 3,249 | 22,620 |
| R&D Expenditures (as a % of Revenue) | 11.6% | 10.0% |
Source: Yahoo Finance.

Source: Yahoo Finance.
As are many tech firms, Alibaba is investing huge sums to develop machine learning and artificial intelligence systems that aim to understand consumer spending better and make them buy more. While these technologies have yet to yield their potential, they have already started paying off. The intelligent personal recommendations on Alibaba's Taobao app are driving strong growth in user engagement and conversion.
What investors need to know
Alibaba is frequently referred to as "China's Amazon." But this doesn't fully represent reality. There's something much bigger going on at the house the Jack Ma built.
Alibaba has delivered growth while simultaneously yielding profits – something Amazon has long been criticized for failing to deliver. They rarely compete, with each staying in their respective corners, but it's worth wondering who would win in an all-out battle. The four little-known assets laid out above, and Alibaba's exceptional cash-flow generation, make it the odds-on favorite. That its shares trade for just 28x forward EPS estimates, far more rational when compared with Amazon's mirage-like 97x forward multiple, makes Alibaba the horse to bet on.