I'm not Chinese.
I'm a foreigner like most people reading this, but my experiences with Alibaba (NYSE:BABA) likely go beyond what most investors and analysts have experienced with the company.
If you want a one sentence version, this whole article it is this:
I am long Alibaba and plan to be for a long time as China and the world cannot function without Alibaba.
Let me back up.
I made a big "value investing" mistake with Amazon (AMZN) by overly focusing on the numbers and valuation. Even though I have vast experience with their eco-system as a buyer and also as a third-party seller on their platform, I placed more emphasis on the current price as opposed to the underlying price based on the many moving and growing parts of Amazon.
This isn't about Amazon, but Alibaba is a similar story, entrenched in Chinese society.
You see, if Amazon disappeared one day, it will be very inconvenient for the majority of the population, but I don't see people suffering because Amazon is gone.
There are just as many e-commerce stores online and software like Shopify (SHOP) and WordPress (using WooCommerce) have made it extremely simple for people to set up an online store.
On the AWS side, if Amazon was to shut down, corporations and businesses would still be able to move to another service. Microsoft (NASDAQ:MSFT) (Azure), IBM (NYSE:IBM) (Softlayer), Rackspace, Google (NASDAQ:GOOGL) (NASDAQ:GOOG) Cloud, and so on. The beauty of the USA market is the amount of competition and choices.
Not so in China.
Alibaba has built the economy to what it is now and has the backing of the government. It's an unfair advantage that Alibaba has taken full advantage of. It comes with its own consequences, but the difference with Amazon in USA and Alibaba in China is that, should Alibaba shut down, China will be in chaos.
Alibaba The Chinese Giant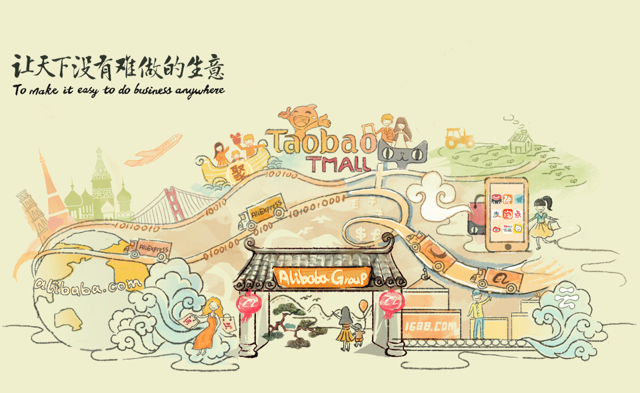 Source: Alibaba Group
Alibaba hit the scene with Alibaba.com, and it is still very much the driver of the business and Chinese industry. By Alibaba.com, I mean the core commerce segment. Being an industrial country, the majority of Chinese businesses are small- to medium-sized factories and companies related to trade. There are not a lot of people opening up small clothing boutiques, retail stores, car washes, or other "typical" small- to medium-sized businesses you expect in the USA.
I'm not saying the country is not diverse. There are plenty of foreign companies opening up retail stores and providing all the products for the Chinese population to buy. But this is about Alibaba and the vast majority of business is driven by Alibaba's role of connecting the millions of small factories with local and international buyers.
Alibaba's International Monopoly
I'm a partner of my wife's company that designs home cleaning, personal care, and beauty products. We travel throughout all of China several times a year, meeting with our suppliers, finding new factories, attending tradeshows, and sourcing new items and ideas.
We hit the streets and have met with more Alibaba sellers and buyers than any Wall Street analyst.
But here's the thing.
Unless we use Alibaba, it's extremely difficult, expensive, and frustrating to find a supplier.
The old way was to either:
Hire a sourcing agent – expensive, time consuming, not getting what you were looking for.
Go yourself – expensive, time consuming, big hassle, language issues.
Alibaba cut out the middleman. They make it extremely easy to find, communicate, and negotiate with suppliers directly through their website.
China is the hub of international trade.
You will not find a supplier who does not have an account on Alibaba. It is mandatory in order to attract business in China. Jack Ma has created a monopolistic network. Sellers register on Alibaba because that's where the buyers are, and buyers go on Alibaba because that's where the sellers are. There is no competition. It's either Alibaba or go home.
It's not cheap to list your business on Alibaba as a seller.
The basic plan is free, but it's severely limited.
Many sellers pay to become Gold members to have seals and verification next to their name. Just like how you most likely buy the product with a lot of good reviews, these seals are the equivalent.
Here's a look at a company called Guangzhou Caiul Digital Products.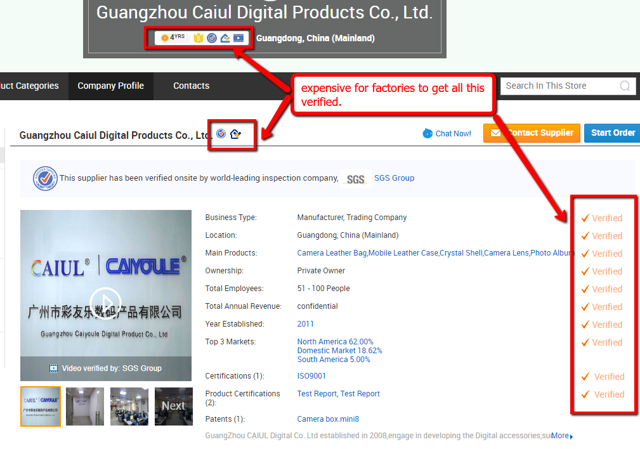 This company:
is a Gold member
had an onsite audit performed by SGS group
had an onsite audit via an employee of Alibaba.com
has third-party reports detailing the business for prospective buyers
This isn't cheap. Gold members provide roughly a security deposit of up to $25,000, pay annual seller fees totaling up to $10,000, and give Alibaba a 2-5% commission on each sale.
Alibaba is minting money.
Alibaba And Amazon
People tend to think of either Alibaba or Amazon as an investment, but in reality, they are more like sister companies.
Amazon wins if they have more third-party sellers. After all, they are just a platform and collect on average 40-50% of the sales price from third-party sellers.
In 2015, Amazon started to court Chinese sellers and it's no coincidence of the e-commerce growth since that time period. Amazon has continued to expand the Amazon Prime network internationally (Americas, UK, Europe, Asia, Australia) and continues to grow. Any time Amazon grows their market, it automatically gives Alibaba free business, as new third-party sellers in the new markets, organically go to Alibaba.com. No advertising needed on Alibaba's part.
Look up "bbq gloves" and you'll see what I mean. You'll see the same product over and over again, listed under a different "brand".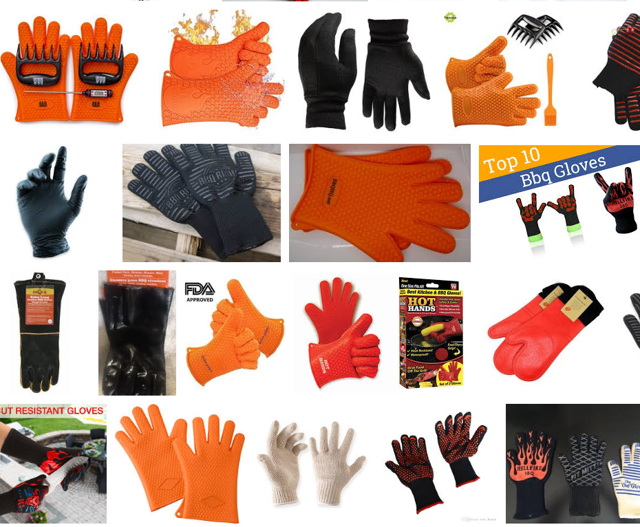 source: Amazon + Google
Sure enough, look up bbq gloves on Alibaba and you see where it's coming from.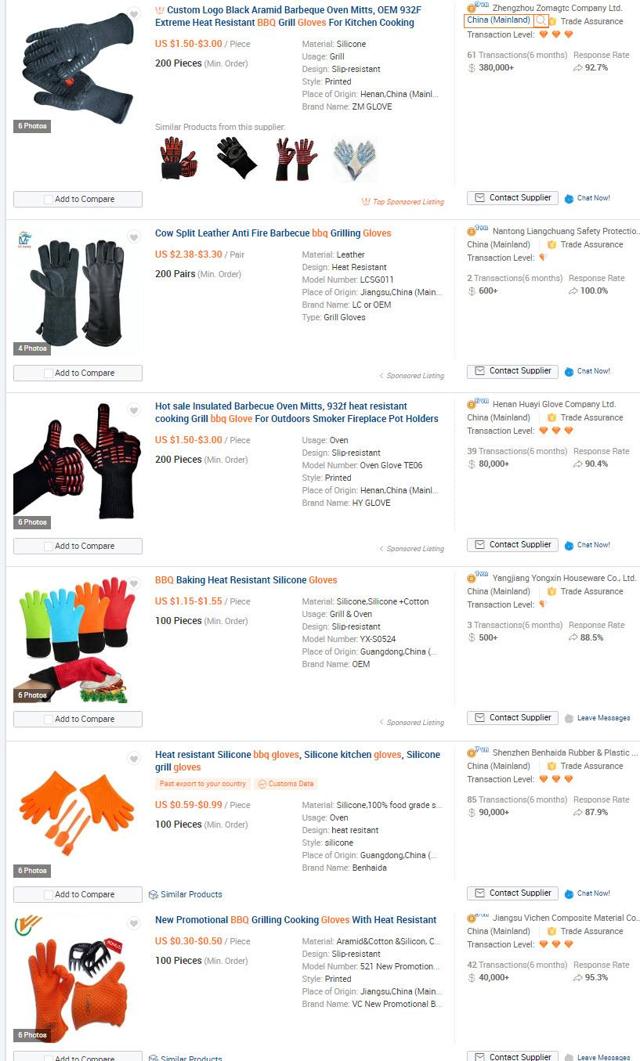 source: alibaba.com
The more Amazon grows e-commerce, the more Alibaba grows.
Alibaba's Domestic Dominance
What's even more impressive is Alibaba's dominance of the domestic business. With literally no outside competition, Alibaba operates dominates the web:
Taobao: World's biggest e-commerce site. Like eBay (NASDAQ:EBAY) and Amazon for domestic people and businesses. Think Black Friday sales or Amazon's Prime Day is impressive? Nope.
Tmall: B2C site where foreign companies can sell to Chinese consumers.
AliExpress: B2C site where international shoppers can get "wholesale" prices without a minimum order size.
Taobao is pretty much the Chinese version of Amazon. Being such a giant online market, there are hundreds of thousands "sole proprietors" in China that sell on Taobao. Rather than using alibaba.com, the local Chinese version is 1688.com – a wholesale online marketplace.
It's not like in western nations where businesses run their own e-commerce store. The bulk of the transactions are done through the major shopping portals like Taobao.
I've included AliExpress in the domestic list as the Chinese businesses that buy through 1688.com flip it on AliExpress to international individual shoppers or small businesses.
With the help of Shopify, drop shipping from AliExpress is growing at a rapid rate.

source: reddit
In short, if there is any sort of e-commerce business venture, the go-to place is Alibaba Group.
Alipay
Any time I go to China, one of the frustrating things is trying to pay for things. Outside of big establishments or international retail stores, foreign cards are not accepted. My last trip included a stop at Pizza Hut, Burger King, and Starbucks – all of which did not accept US credit cards. I'm constantly having to look for an ATM.
Locals on the other hand essentially go cashless using Alipay or WeChat Pay (from Tencent (OTCPK:TCEHY)). You can pay taxis, restaurants, movie tickets, and practically everything through Alipay.
I realized the extent of the ecosystem and network effect when I was watching older fishermen and women selling what they caught that day on the beach. They would sell a fish or crab, hold out a barcode which the buyer scanned to make payment.
Boom. Transaction complete.
Alipay still owns more than half of the China mobile payment industry. Tencent is a close second, and without getting into deep details, the short version is that these two companies own the Chinese mobile payment industry.
As a traveler to China, it's maddening as foreign banks and cards are not accepted.
Why would they?
Alipay and WeChat cut out banks and the fees. They blend payments with social and shopping seamlessly. The user is able to transfer money to and from their mobile wallet without any bank interference. There are so many layers that the Alipay cuts out. There is no incentive for Chinese users to leave the system and have to pay fees for international credit cards.
Unlike the US, where the bank is always involved, too many mobile wallet options, not enough stores that can support every tech, and it creates a problem of no single standard.
We'll get to see Alipay in action in the US as New York and Las Vegas have inked deals to support Alipay in their taxis. Smaller stores are also beginning to adopt the payment system in order to attract the Chinese tourists and their spending power.
The Problems
The scary part of all this is how Alibaba and other Chinese tech giants have grown. In their homeland, the Chinese government makes it easy for them to knock out foreign competition. The Chinese government allows monopolies to be created. They turn a blind eye and giants like Alibaba have little regulation in many parts of the business. Be loyal to the party, and you are essentially in the good books.
Get too big headed, and the same government that let you grow will axe you down. While it will be detrimental to the economy, it's a real possibility.
Google couldn't handle all the mess that came with the communist party, Facebook (NASDAQ:FB), Twitter (NYSE:TWTR), and YouTube are all banned. Microsoft is somehow in the good books because MSN and other MSFT related services work.
But the same thing could happen if Alibaba takes a wrong political step. Highly unlikely, but that's the black swan in this case.
I am most likely oversimplifying, but aside from Tencent or Baidu (NASDAQ:BIDU), there's not much competition to be afraid of. Communism is a competitive advantage for Alibaba.