Top 50 Grocers: How Amazon's Entrance Has Led to Unprecedented Omnichannel Ramp-Ups
Home

Top 50 Grocers: How Amazon's Entrance Has Led to Unprecedented Omnichannel Ramp-Ups

Look through this year's Super 50 list, at the end of this piece, and from the start, you'll see the same familiar names in the same places: Walmart, Kroger, Albertsons Cos., Ahold Delhaize USA, Publix, H-E-B — and Amazon?
Sure, it made its way onto the list — and landed such a prime spot — by purchasing Austin, Texas-based natural and organic grocer Whole Foods Market. But one of grocers' greatest fears in recent years is now officially a reality: Amazon is among the toughest competition in today's market.
And it's only going to grow tougher: While its climb up the list from No. 10 in 2016 (as Whole Foods) and ninth in 2017 (also as Whole Foods) to No. 7 this year isn't due to its own sales, which haven't changed much in the past year, its first-year preparation to seriously disrupt the grocery market means that we can expect even higher rankings in the coming years.
Just look at some of the things that Amazon — on its own or via Whole Foods — has introduced in the past year to catch headlines in food retail: lower prices, special deals on select products at Whole Foods for Amazon Prime members, free grocery delivery to Amazon Prime members via Whole Foods stores, Amazon Lockers in Whole Foods stores, the public debut of the checkout-free Amazon Go convenience-store concept, shoppable recipes through several media brands, the possible replacement of Whole Foods' rewards program with Amazon Prime, and more.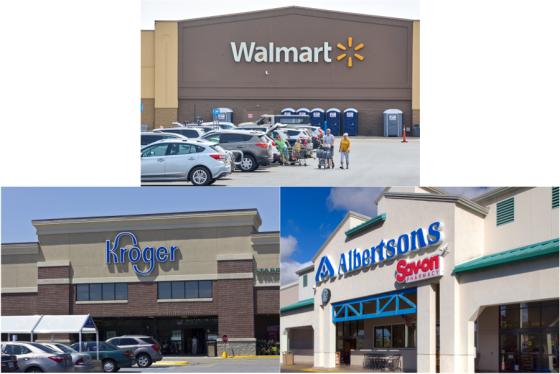 And it's not just the big three that are preparing for battle. H-E-B (No. 6), for instance, piloted a self-checkout app in San Antonio while also acquiring delivery service Favor; Meijer (No. 11) launched a scan-as-you-shop app for skipping checkout; Target (No. 12), among many other initiatives, purchased two services — Birmingham, Ala.-based Shipt and San Francisco-based Grand Junction — to boost its delivery capabilities; and even hard-discounter Aldi (No. 8), often seen as immune to most market threats, launched and is expanding grocery delivery via Instacart.
Food retailers have made tremendous strides in their omnichannel programs since news of Amazon's Whole Foods buy hit last June. Comparing Progressive Grocer's 2018 Annual Report, which was published last month, with its 2017 Annual Report, more than double the number of grocers polled (28 percent versus 12.2 percent) have a fully integrated omnichannel strategy in place, while the number of those with no omnichannel services at all declined from 46.5 percent to 32.7 percent. This corresponds with the fact that "keeping up with advancements in technology" shot up to No. 3 from No. 9 in the list of issues that respondents said keep them up at night.
Amazon now has a prominent spot on the Super 50 list — one that could become even more so in the next year. Clearly, however, its competitors are doing — and will continue to do — everything they can to keep the Seattle-based online retailer at bay.
| | | | |
| --- | --- | --- | --- |
| 2018 Rank | 2017 Rank | Company | Fiscal Year-End Sales (000) |
| 1 | 1 | Walmart Inc. | $159,809,000 |
| 2 | 2 | The Kroger Co. | $79,240,200 |
| 3 | 3 | Albertsons Cos. Inc. | $61,261,200 |
| 4 | 4 | Ahold Delhaize USA | $46,119,320 |
| 5 | 5 | Publix Super Markets Inc. | $28,535,000 |
| 6 | 6 | H.E. Butt Grocery Co. | $16,451,500 |
| 7 | 8 | Wakefern Food Corp. (*Aggregate of ShopRite, Price Rite and The Fresh Grocer banners) | $16,300,000 |
| 8 | 9 | Amazon (as Whole Foods Market) | $15,655,900 |
| 9 | 10 | Aldi Inc. | $14,664,780 |
| 10 | 12 | Trader Joe's Co. | $13,000,000 |