SpartanNash Buying Martin's Super Markets
Home

SpartanNash Buying Martin's Super Markets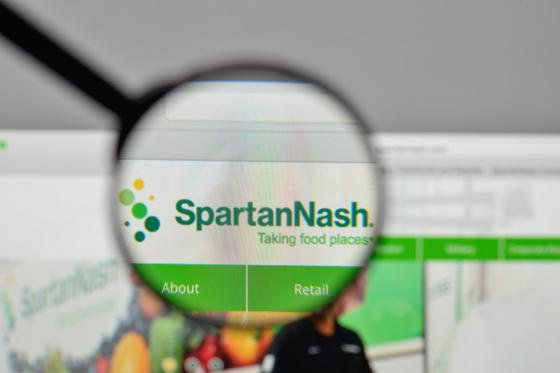 SpartanNash Co. has reached an agreement to acquire Martin's Super Markets Inc., the family-owned and -operated Midwest independent grocer, in a deal that will expand SpartanNash's corporate retail footprint into the adjacent markets of northern Indiana and southwestern Michigan.
South Bend, Ind.-based Martin's operates 21 independent grocery stores in northern Indiana and southwest Michigan, with about 3,500 employees. The grocer also has 17 in-store pharmacies, a pharmacy at Saint Joseph Health System in Mishawaka, Ind.; a Martin's Express convenience store in South Bend; and a Side Door Café at Elkhart General Hospital. For the fiscal year ended July 29, Martin's logged more than $450 million in net sales.
"We are excited to welcome Martin's Super Markets to the SpartanNash family," noted David Staples, president and CEO of Grand Rapids, Mich.-based SpartanNash. "Martin's has been a valued independent retail customer since 2005, and we have the greatest respect for the Martin's management team and its commitment to their associates, customers and the communities they serve. We look forward to working with members of the team to continue to deliver the quality shopping experience and high level of customer service to Martin's customers. Our long-standing relationship has built the foundation for our future success and will enable us to grow our corporate retail business in Indiana and Michigan consistent with our long-term strategic growth strategy. We also believe this investment in our corporate retail business will help us take full advantage of our opportunities to generate value for all SpartanNash stakeholders."
SpartanNash has also hastened to reassure Martin's customers that it will retain the familiar banner and keep all 21 stores in operation with their current associates, according to a report in the South Bend Tribune.
The deal is expected to wrap up early in the first quarter of the fiscal year ending Dec, 28, 2019, subject to customary closing conditions.
"We were seeking a partner we could trust with the family's legacy of exceptional customer service, quality products and value; we found that partner in SpartanNash," said Martin's President Rob Bartels, grandson of the company's founders." SpartanNash has been a valued and capable partner, and our partnership has grown and strengthened over time. We share similar values, a passion for the business, and cultures based on excellent customer service, stewardship of our brands, and commitment to our communities and teams. We look forward to a robust and dynamic future for the Martin's family."

"Martin's, like so many of our clients around the country, has served as a pillar of its communities for generations," said Scott Moses, head of food retail and restaurants investment banking at New York-based PJ Solomon, who is advising Martin's.  "This transaction is another example of a smaller, family-owned business gaining the benefits of scale from a larger partner with more access to the tools required to compete against alternative grocers such as Amazon, Walmart, Target, Aldi, dollar stores and drug stores."
The Food Partners acted as financial advisor and Warner Norcross & Judd LLP acted as legal advisor to SpartanNash.
SpartanNash's core businesses encompass distributing grocery products to various independent and chain retailers, its corporate-owned retail stores, and U.S. military commissaries and exchanges, along with fresh produce distribution and fresh food processing. The company serves customer locations in all 50 states and the District of Columbia, Europe, Cuba, Puerto Rico, Bahrain, Djibouti and Egypt. SpartanNash operates 139 supermarkets, mainly under the Family Fare Supermarkets, D&W Fresh Market, VG's Grocery, Dan's Supermarket and Family Fresh Market banners.  The company is No. 35 on Progressive Grocer's 2018 Super 50 list of the top grocers in the United States.